Numerous consulting firms among Best Workplaces in Canada
Several consulting firms made it onto the 2021 list of Best Workplaces in Canada – including Ryan, EY, Capco, CGI, Grant Thornton, and Kearney.
The annual list, which is compiled by the Great Place to Work Institute, bases scores on confidential employee survey results and in-depth reviews of organizational culture. More than 82,000 Canadian employees shared their experiences and sentiments toward their workplaces, while a total 11 million people were surveyed in more than 50 countries for the annual lists from Great Place to Work.
"Leaders were put to the test and what we found, while surprising to some, was not surprising to us," said Jose Tolovi Neto, managing partner of Great Place to Work Institute Canada. "Leaders at the Best Workplaces in Canada were able to leverage the trust they had so carefully fostered over time, to act swiftly and boldly to make things better for their people and their communities."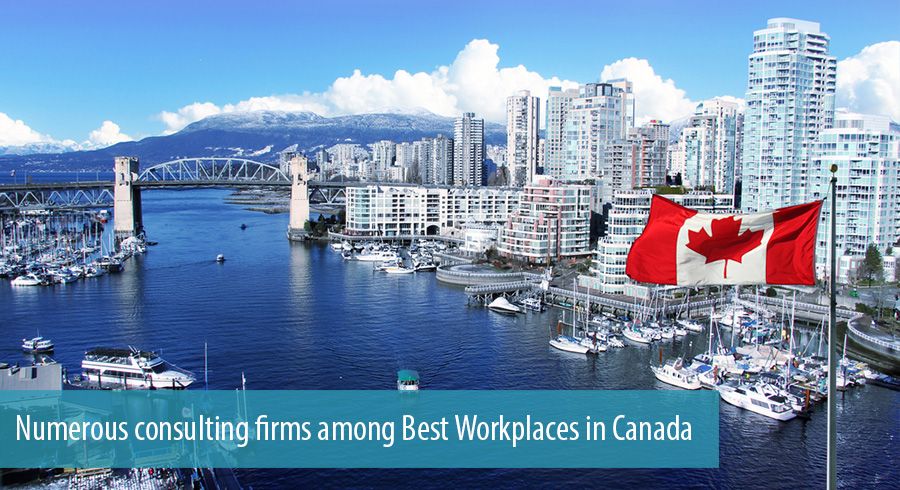 Among the 150 companies that made the list were six consulting firms: tax consultancy Ryan, accounting and consulting firm EY, management consultancy Capco, IT consultancy CGI, accounting and consulting firm Grant Thornton, and management consultancy Kearney.
Consulting firms, tasked with attracting highly skilled and expensive graduates and professionals, generally have very competitive compensation and benefit packages. Work-life balance and heavy travel are two of the most commonly identified cons of working in the consulting industry, however.
Below are some of the benefits the top-ranking consulting firms offer to their team members.
Ryan (268 employees in Canada) reimburses most of the costs for gym memberships for employees and their families, as well as offering sizable team allowances for recreation and meals.
EY (6,655 people) has a mental health benefit supporting up to $5,000 for therapy. The company also enhanced its flexible work program during the pandemic.
Capco (380 people) offers weekly yoga instruction and discounted gym memberships. The firm also has an annual mental health awareness week to address and educate employees on various topics pertaining to mental health.
CGI (11,385 people) has a strong employee ownership program with profit distribution. The firm offers up to $1,050 in flexible credits for spending on health or physical activity, as well as insurance plans for therapy.
Grant Thornton (2,224 people) has a giving program where employees select charities for contributions. The program has donated $200,000 to 78 local charities in Canada. The firm also has a "senior listening team" program where employees can have open discussions with leadership on issues that are important to them.
Kearney (59 people) makes sure every employee has a mentor to help foster growth, development, and network building. The firm offers extended parental leave of up to 12 months, as well as a six-month transition period with limited travel and part-time work opportunities.