Companies that use cloud-driven operating model outperform rivals
Companies that treat cloud as a launchpad for innovating and new ways of operating outperform companies that relegate cloud to a one-time migration event, according to a recent report from Accenture. The consulting firm surveyed nearly 4,000 C-suite executives across 16 countries – including 200 Canadian leaders.
Cloud migration on its own isn't a bad thing, with nearly 65% of respondents reporting 10% in cost savings on average because of a migration. However, a small subset (12-15%) of companies globally use the cloud as a future operating model – transforming how they interact with stakeholders, how they make and market products, how they run their IT systems, and how they gather data – and giving themselves a competitive advantage in the process.
Accenture calls these companies "Continuum Competitors" because they utilize cloud capabilities across the continuum – from the public cloud (the standard computing model provided by third-parties over the public internet) to private cloud (computing services provided to a single customer, typically on-premises) and edge cloud (decentralized computing on devices).
Continuum Competitors choose the right types of cloud and services for their needs, and then implement the advanced practices that leverage those technologies, according to the report.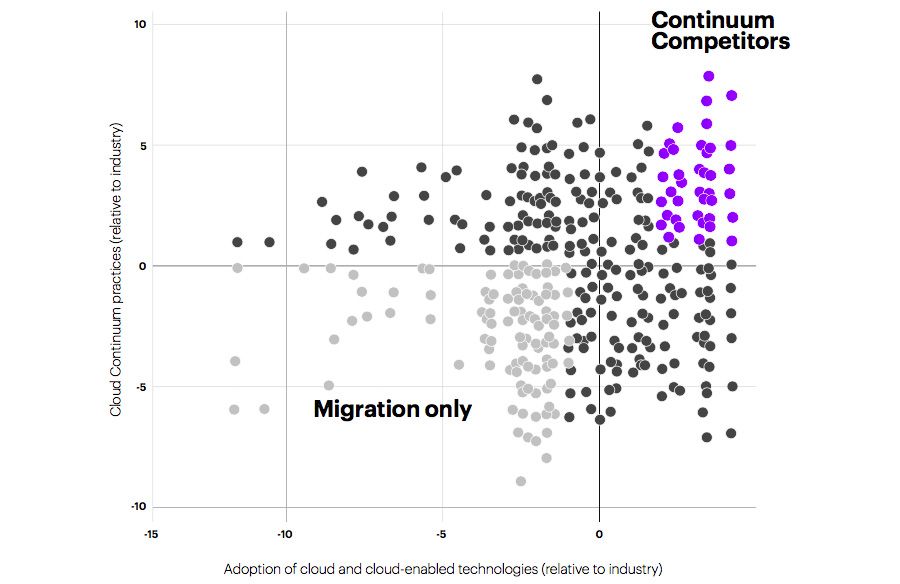 "A company's future competitiveness hinges on choosing the right type of cloud for the right applications, and choosing cloud-based services across the continuum," said Jennifer Jackson, technology and cloud lead at Accenture Canada. "Technologies like artificial intelligence, smart contact centres, edge computing, robotic computing, and extended reality can give Canadian companies that competitive advantage. But all require a cloud-first approach, which allows for better customer experiences, smarter business processes, and more sustainable products."
According to Accenture, Continuum Competitors in Canada achieve 1.3x greater cost reduction than organizations focused mainly on data migration (in Europe, they see approximately double the cost reduction, at 2.7x times that of migration players).
Continuum Competitors in Canada also target at least 1.3x better in financial and operational goals, including operating costs and financial growth and flexibility. They are also 1.6x more likely to see outcomes such as AI-augmented knowledge work.
Accenture's survey found that the top factors holding companies back from cloud adoption were "complexity of business and operational change" and "security and compliance risk," with 42% of respondents identifying the two issues.