CGI to buy back 6 million of its shares from la Caisse
Management and technology consultancy CGI has announced that it will buy back 6,008,905 million of its Class A subordinate voting shares from la Caisse, the large Quebec institutional investor.
CGI will be taking advantage of a 10% slip in share prices since their peak in mid-January at $113. CGI will buy the 6 million shares at $99.85, at a discount of $3.09 on the February 14 share price of $102.94.
The transaction represents approximately 16% of la Caisse's owned shares of the Montreal-based IT consulting firm. When the deal finalizes, la Caisse will still have 31.4 million of CGI's Class A shares, or 11.9% of overall shares in circulation.
The move was made as part of la Caisse's periodic portfolio rebalancing. The institutional investor, which manages several pensions and insurance programs in Quebec, previously sold back 5.16 million Class A shares to CGI in summer 2019. The move brought down its share ownership to 13.9% of outstanding CGI shares, and was also part of periodic portfolio rebalancing. La Caisse managed $326.7 billion in assets as of July 30, 2019.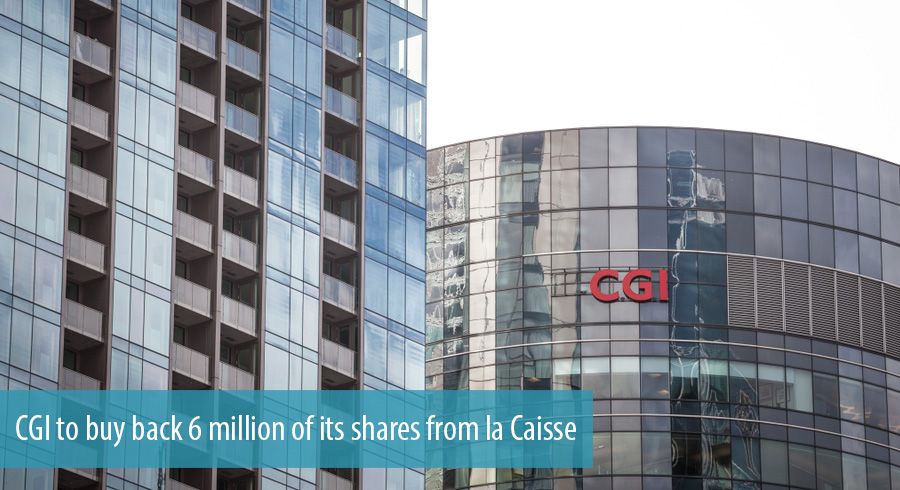 "Once again this year, CGI continues to produce excellent results for its shareholders, and this transaction is an opportunity for la Caisse to monetize a portion of our investment to the benefit of our depositors," said Charles Emond, president and CEO of la Caisse. "La Caisse remains a significant shareholder of CGI and intends to continue supporting the growth and globalization of this information technology leader."
The share repurchase is made under CGI's normal course issuer bid, which allows for the repurchasing of up to 20,149,100 Class A shares by February 5, 2021.
"This transaction is immediately accretive and consistent with our value creation strategy," said François Boulanger, EVP and CFO of CGI. "We remain very well positioned to continue executing our Build and Buy profitable growth strategy through our strong cash flow generation and access to our credit facility."
CGI has seen stellar growth in its market value in the last three years, rising by $16 billion to reach $27.7 billion. The firm has 77,500 global consultants and annual revenues of $12.1 billion.