McKinsey partners with generative AI firm Cohere
McKinsey & Company has entered a strategic collaboration with Cohere, a Toronto-based developer of enterprise artificial intelligence platforms and large language models (LLMs).
McKinsey and Cohere will together provide tailored solutions in generative AI to help improve business performance. Led by McKinsey's AI arm QuantumBlack, the partners will help clients integrate generative AI into their operations, upgrade business processes, train and upskill employees, and tackle pressing challenges.
Founded in 2019 by alumni of Google Brain, the firm's AI research division, Cohere today employs hundreds of AI and machine learning experts, software engineers, and data scientists. Billing itself as the leading AI platform for enterprise, Cohere's in-house generative AI models can be stood up on the cloud provider of a client's choosing, or entirely on premises, and with greater safeguards on data privacy than consumer-facing AI platforms.
Cohere has offices in Toronto, San Francisco, and London, and recently announced a $270-million funding round at a $2 billion-plus valuation.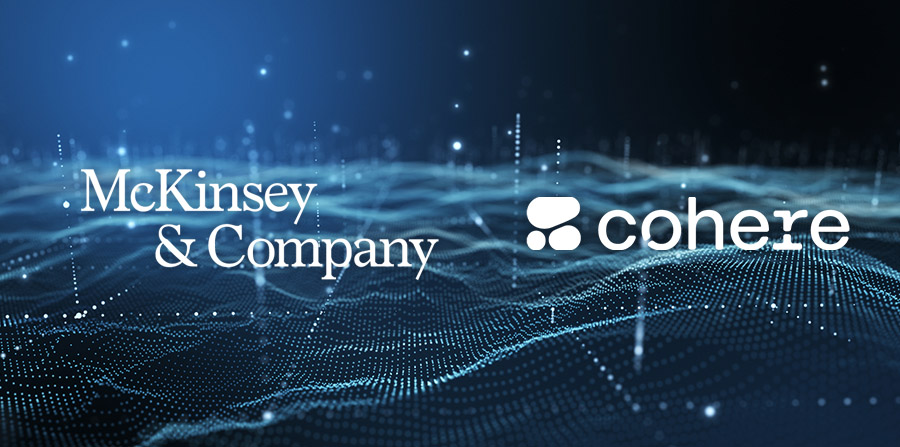 "Every client context, use case, and organization is unique, but they are all looking for the right generative AI solution tailored for their needs to address privacy, IP protection, and cost," said Ben Ellencweig, a McKinsey senior partner and global leader of alliances and acquisitions for QuantumBlack. "Together with Cohere, we are excited to launch secure, enterprise-grade generative AI solutions for our clients, moving from discussing productivity and growth opportunities to capturing value on the ground, day to day."
As more businesses look to get on the generative AI bandwagon, McKinsey and Cohere will help them define use cases, design IT architecture to integrate the technology, develop and train AI models based on client context, build employee capabilities, introduce organizational changes to leverage AI, and refresh use case roadmaps as technology matures and needs change.
"McKinsey and Cohere share a vision of partnering closely with clients, using AI to transform businesses, and prioritizing responsible and data-secure implementation of this technology," said Martin Kon, COO and president of Cohere.
Many large consulting firms have been inking partnerships to bulk up their AI offering, mostly with OpenAI and Microsoft's Azure OpenAI Service, which is built around the popular ChatGPT tool that has rocketed generative AI into the mainstream.
PwC Canada earlier this year announced plans to invest $200 million over the next three years to improve its artificial intelligence capabilities, with the initiative centering on the Azure OpenAI Service.
In the US, Bain & Company allied with OpenAI, PwC announced a $1-billion AI investment, and Accenture announced a $3-billion AI investment.