Fake news is causing some Canadians to lose trust in mainstream sources
A new study from research and consulting firms Vividata and Kantar has found 28% of Canadians say their trust in mainstream sources has suffered because of fake news. The Trust in News study also found that a quarter of Canadians use more sources for news than a year ago, and that radio is the most trusted medium.
The phenomenon of fake news has taken greater hold with the rise of the internet and the proliferation of ideas and ease of access-to-multiple sources of information, with varying degrees of veracity. Websites with the veneer of legitimacy spout nonsense about vaccines causing autism, and people repost it to their Facebook walls as if it were a respectable source of objective reporting. You didn't use to be able pick up the local nut-job's self-published pamphlet at your local newspaper vendor while going to purchase a copy of The Economist; now, thanks to the internet, you can.
And it's causing problems. There is a large body of evidence that Russian online 'trolls' created or linked to vast amounts of fake news and brigaded comment boards around the web in an effort to sway voters towards Donald Trump. Fake anti-Clinton content was posted continually to social media avenues like Facebook (e.g. false news like 'Clinton Cannabis Culprits Caught Early Voting' by The National Report, or the laughable 'Pizzagate' conspiracy alleging a Democrat-linked child sex ring). The popular social media site has since responded to criticism of its lax attitude towards misinformation by starting to crack down on fake news sources in people's news feeds.
A new report from research and consulting firms Vividata and Kantar – Trust in News – reveals that the proliferation of fake news has even eroded Canadians' trust in mainstream media, with 28% saying that their trust in mainstream sources has suffered because of it. This is a worrying finding, because mainstream sources haven't been publishing patently false information.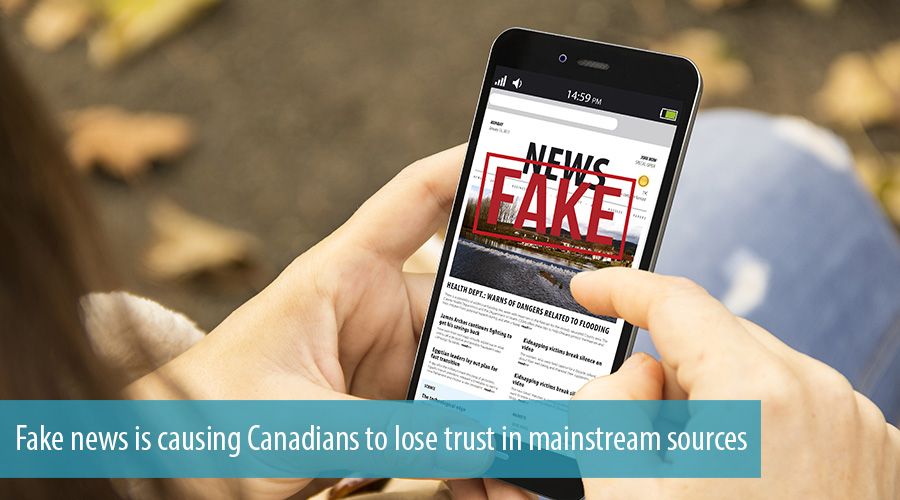 The flooding of false sources into people's personal feeds threatens to create a 'post-truth' world, where people or leaders can craft whatever narrative they want, and dismiss the facts they don't like as 'fake news.' As such, it's important for people to recognize there are legitimate sources of news with standards of journalism and fact-checking – your New York Times, your Globe and Mails. The truth is out there, and it's not that hard to find.
"Trust in News is an important study for Vividata's membership base and for Canadian journalism in general," says Vividata President and CEO Pat Pellegrini, Ph.D. "News audiences are increasingly well informed and using more sources. We all want to have confidence that the content we read and share is accurate."
The report finds that 25% of Canadians are using more sources for news than a year ago. While the finding could point to a wider array of sources to cross-reference facts and details, it could also mean a greater opportunity to ingest fake news articles from disreputable websites. Consumers of web media need to be critical of what they're reading, especially if it was linked by their off-kilter great-uncle on Facebook. Fact-checking websites like Snopes.com are especially helpful in examining the legitimacy of news stories. But once people start equating all news sources as the same, that's when 'the truth' becomes out of reach.
"While we see that traditional news media retain higher levels of trust, it is crucial to protect the quality of journalism that earned this loyalty," comments Phillip Crawley, Chief Executive Officer and Publisher at The Globe and Mail, and Vividata Vice-Chair.
It's a not-unreasonable argument to say that a free, honest, and well-functioning press helps democracy work. It keeps politicians honest, and gives citizens the hard facts on what's going on in politics and society-at-large. But at the same time that the internet has apparently undermined some Canadians' trust in mainstream media, the technology has also rocked the industry by siphoning off the classifieds and advertisements that were its lifeblood. Now, papers are struggling to stay afloat with ad-based web versions or paywall models.
The report finds that though 65% of Canadian news audiences feel they can access everything they want for free, there is a correlation between how trustworthy a source is and consumers' willingness to pay for it. As such, premier and trusted publications like The New York Times have had success with their paywall models, as people are willing to pay for their high-quality journalism.
The Vivdata/Kantar study further reports that adults under 55 make up 59% of those who pay for online news, while a quarter of those 18-34 do so. Traditional media such as print, TV, and radio rate much higher for audience trust than social media websites, with radio ranking as the most trusted source at 82%.
Being a trusted source could also be a benefit for publications, as they are ostensibly a better place to put ads than going for a high-click, fake news site. "Trust in media goes beyond the content as it impacts marketing," comments Mark Wood, Vice President at Kantar. "Advertising in trusted environments not only makes ads more effective as consumers pay more attention to the message, it also provides assurances of brand safety and ultimately protecting the reputation of your brand."