Deloitte will move Laval office to Espace Montmorency in 2023
Accounting and consulting firm Deloitte plans to move its Laval office of 90 professionals to the under-construction Espace Montmorency – the largest ever mixed-use development in Laval, Quebec.
The $450-million development, located near the Montmorency metro station, will offer a total of 1.3 million square feet of rental space – including 332,000 square feet of office space in Tower 2. Towers 1 and 4 will be residential space, while Tower 3 will feature a hotel and urban spa.
Espace Montmorency will also have 142,000 square feet of commercial space, featuring shops, cafes, and restaurants. Aiming for LEED Gold and LEED MD certifications, the "block design" development boasts a rooftop terrace, 50,000 square feet of public green space, and charging stations for electric cars.
The development is helmed by a partnership of real estate firms Montoni and Groupe Sélection, as well as the Fonds immobilier de solidarité FTQ – which supports profitable and socially responsible real estate projects in Quebec. The real estate project broke ground in June 2019 and is slated for completion in summer 2022.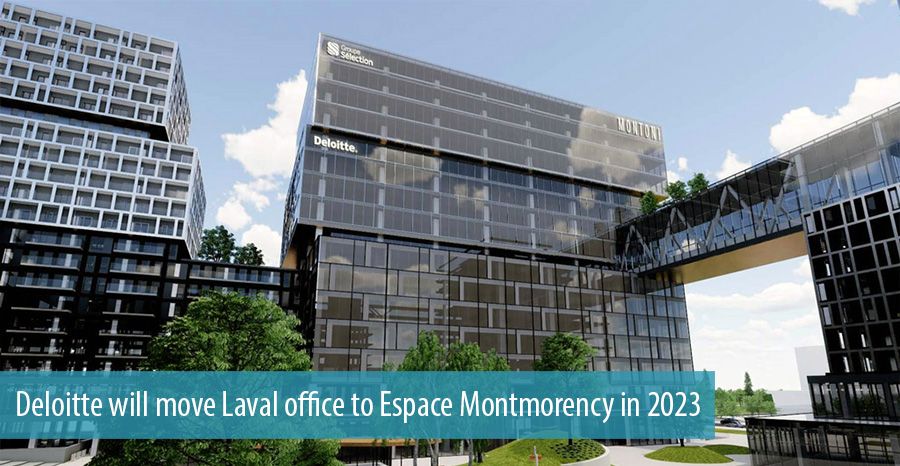 Deloitte announced that it will move its Laval office to Tower 2 of Espace Montmorency in early 2023. As a "premier tenant," Deloitte will have its logo installed on the building façade, with visibility from highway 15. Deloitte's current Laval office is situated at 2540, boul. Daniel-Johnson.
"We're very pleased to welcome a premier tenant like Deloitte. This confirms the drawing power of this large-scale, innovative project in Laval, a centrepiece of the new downtown. Deloitte will benefit from Espace Montmorency's multifunctional design and choice location near major arteries, public transportation, and knowledge institutions," said Dario Montoni, president of Groupe Montoni.
Groupe Sélection and Montoni will be moving their headquarters to Tower 2 upon completion of the construction project, as well.
"We are very pleased to offer our employees in the Laval office modern and futuristic workspaces that will be located in the heart of a bustling business area where citizens are enthusiastically looking to build a better community," said Geneviève Provost, managing partner of Quebec and National Capital Region, Deloitte. "This new bright, flexible, and state-of-the-art work environment is an increased investment in our people, which will allow them not only to continue to excel in their work, but also to put their unique skills to use, harness their strengths, and nurture a sense of belonging to a community."
While some professional services firms are locking into new leases and looking forward to a future return to semi-normalcy, other firms are shifting their workplace models to ones that are more remote-work-oriented. Sikich, for example, plans to significantly shrink its office space – opting for a larger number of geographically distributed "micro offices" and a mostly remote workforce.