Lean times ahead for Canadian oil producers
Oil producers will have to deal with a low-price environment for the foreseeable future as demand drops heavily in the pandemic context, according to Deloitte's most recent price forecast for oil, gas, and chemicals.
Deloitte notes from the outset that preparing a forecast in the "falling-knife" portion of the market is a difficult task – so any oil forecast should be taken down in pencil. Indeed, since the report was published on March 31, OPEC and its allies agreed to reduce production amidst slumping demand.
A disagreement between Saudi Arabia and Russia led to OPEC increasing its production, at the same time that Covid-19 greatly reduced global demand – with its travel restrictions and quarantines leading to idle manufacturing and reduced fuel demand for transport. The combined factors led to an oil price crash in mid-March.
On Sunday, OPEC and its allies agreed to reduce their daily production by 9.7 million barrels (10% of global production) – the largest cutback in history. That may not be enough to sufficiently boost prices, however, as demand has fallen by between 25 million to 35 million barrels a day, according to experts cited in The New York Times.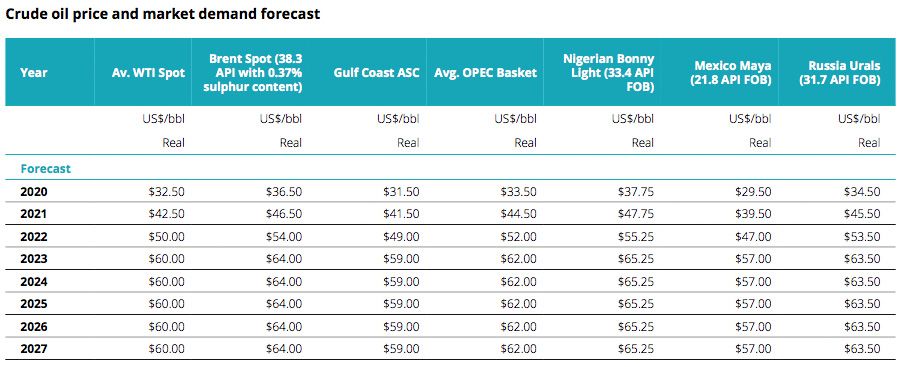 Oil prices slumped further on Wednesday, as the International Energy Agency projected that global demand would fall by a record 9.3 million barrels per day for the year of 2020. US WTI crude fell 4.5% to $19.52 per barrel, and Brent crude fell 8.2% to $27.18 following the news. The IEA expects further production cuts from OPEC in the coming months.
The Deloitte oil & gas price forecast pegs the average WTI Spot at $31.50 in 2020, $42.50 in 2021, and $50 in 2022. The Brent Spot is forecast at $36.50 in 2020, $46.50 in 2021, and $54.00 in 2022.
The forecast is based on an assumption of Covid-19 containment in the summer and an economic rebound in the fourth quarter elucidated in Deloitte's March economic outlook.
The slump unsurprisingly means tough times ahead for Canadian producers, who will be affected "substantially." Capital budget reductions and project deferrals have been announced since the beginning of March, according to the Deloitte report. Though Canadian operators have endeavored to reduce break-even oil prices for projects since the oil price shock of 2014, they will now have to compete against lower cost operators.
According to Deloitte, Canadian firms may however be better able to withstand extended low prices than their Permian counterparts in the US, who are over-leveraged. Canadian operators, in contrast, have less debt and leaner operating metrics due to a period of slower growth because of transportation bottlenecks.
Access to external capital will remain elusive in the low-price environment, and the upstream investment will be decimated if prices fail to recover by the end of 2020.
"Until prices recover and the demand supply balance stabilizes, investment in the sector will remain low, with major project deferrals expected to be the norm," the Deloitte forecast notes.